Your backup folder will look something like this.
Each time the plugin is executed a backup of the file being edited is saved in /<local-root-for-site>/coda_backups/2010-04-01/ or in /users/username/coda_backups/2010-04-01/ if you don't have a local root set.
It's like a local history for your files. If something goes bananas: just check your local backup folder.
Installation
Usage
Select Plug-ins > Save and backup
..or use the keyboard shortcut: Ctrl+Alt+Cmd+S
Now check your home folder. It should contain a folder called "coda_backups" with all your backups.
Use Cmd+S to run plugin
You can change the default keyboard shortcut by using the "Keyboard Preference Pane" (in System Preferences). Go there, click the plus-sign and enter the following information: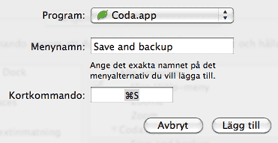 After doing this you should be able to use Cmd+S to run this plugin, resulting in lots and lots of backups! 😉
Errors…
If you get an error similar to this:
No such file or directory at /Users/<username>/Library/Application Support/Coda/Plug-ins/saveAndBackup.codaplugin/Contents/Resources/06C6E0F7-5954-493E-B0B5-49321D712980/local-backup line 63, <STDIN> line 73.
then open finder and go to your home directory and create a folder called "coda_backups" there. Now try again and it should work.
Todo/Ideas
These are my thoughts. Contact me if you have an idea!
It would be nice to have this plugin mapped to the usual Save/Cmd+S but I don't think this is possible yet. Hopefully in the future…
There will be a lot of files in the backup folder. Maybe a limit there…
A folder for each site would be nice too. Don't think this is possible yet either. Kinda working now!
History
November 20, 2009

Files are now saved to folders based on date. Thanks to Bobbie Stump for contributing code for this.
If a site has a local root set, files are saved to that folder.

September 24, 2009

Added note on how to get Cmd+S working as the keyboard shortcut. See above.

April 15, 2009

First version. Seems to work.